Thoughts on selling our tandem
When I told my daughter Jen that I was planning on selling my tandem bicycle (which has been stored in her garage for the past 3 years) she kindly offered to post on Facebook Marketplace. Since I don't use social media, I gratefully accepted. But I must say, the process has awakened many memories, mostly pleasant but some sad.
Born in the Netherlands, I learned to cycle at around age 4, when my elder sister, then age 8, put me on the pedals of her much-too-big bicycle (I was too small to get on the seat), and ran behind, holding the bike upright…until she let go! I was hooked, and have been cycling ever since. In the late 80's, I got into triathlons (Olympic distance, including a 40km bicycle segment) so upgraded to a nice road bike, a made-in-Canada Miele.
In 2000 I developed a painful bladder condition. Having to urinate every half hour or so, cycling and running became very difficult. After many consultations and treatments, the condition was finally properly diagnosed and treated in 2012, and I was again able to cycle. My wife Helen was diagnosed with endometrial cancer that same year, and after surgery and brachytherapy, resolved to get into better physical condition. Not having bicycled for years, getting back on one was very daunting for her, and it became clear that going for bicycle rides together was not in the cards, given our greatly different levels of experience and fitness.
So we looked into buying a tandem bicycle! Researching the topic, I felt our best bet would be the Independent Coasting System developed by Da Vinci Tandem Designs in California. By allowing one person to coast while the other continued pedaling, our different fitness and skill levels could be easily accommodated. We visited the Canadian dealer, Meadowvale Bicycle Service Tandems in Mississauga, ON but eventually purchased the Grand Junction model from Gear-To-Go Tandems in Saranac Lake, NY. The owner, Rick Shapiro, took each of us out on the tandem, taking the time to familiarize us with it until we were sufficiently at ease to ride it together.
Over the next four years, Helen and I went on many day outings on the tandem. We would choose a nice off-road cycling path, often one that was part of the Quebec "Routes vertes" network, and put the tandem on the roof of our car using a roof rack that Rick had recommended. Its design allows a long and heavy tandem to be loaded by just one person! We would drive to a suitable starting point, such as Chambly, Beauharnois, or Oka, stop somewhere nice for a picnic lunch we had packed in our panniers, and get home before supper! Or farther afield, including a vacation on Prince Edward Island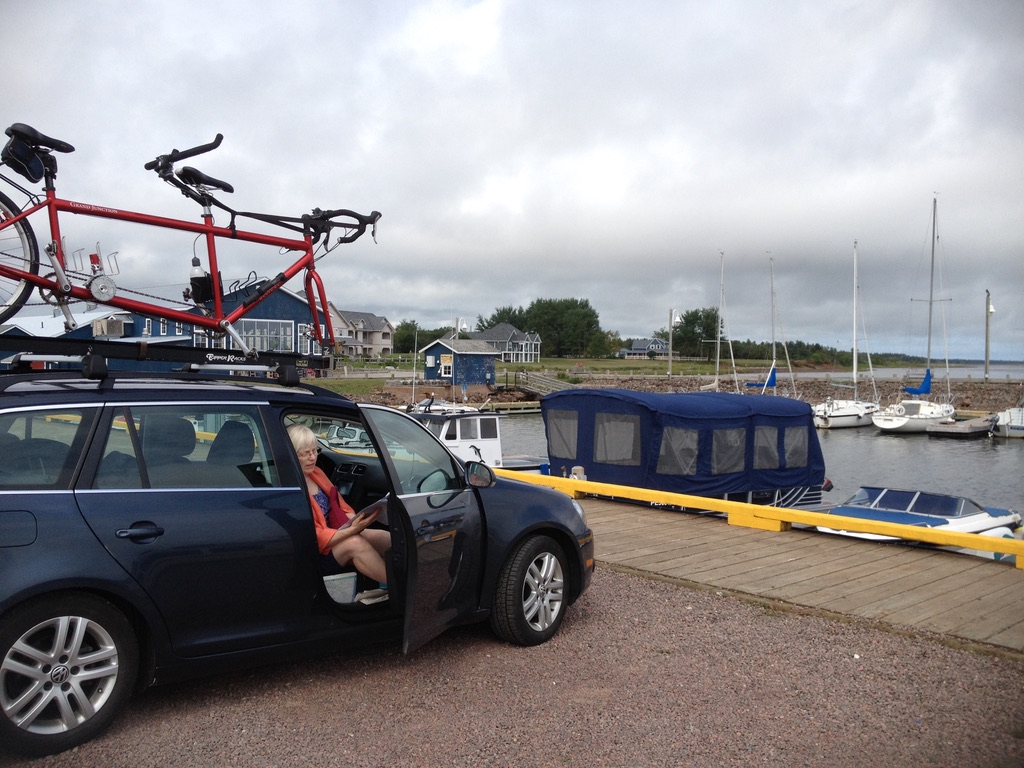 .
We also went on some organized outings, including a weeklong all-inclusive ramble for 10 tandem teams around Lake Champlain, organized by Rick Shapiro and his spouse; and a long weekend "Eastern Tandem Rally" for 150 tandem teams.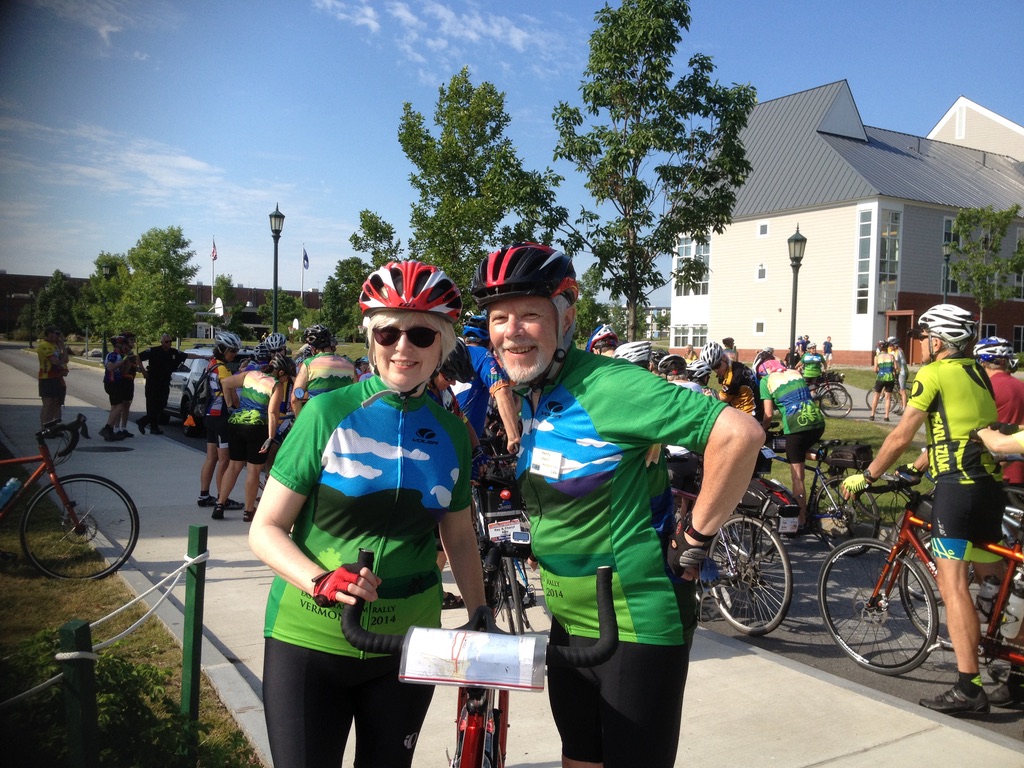 We also took part in cycling activities such as the EpicTour GranFondo in Halton ON, where we stood out as the only tandem riders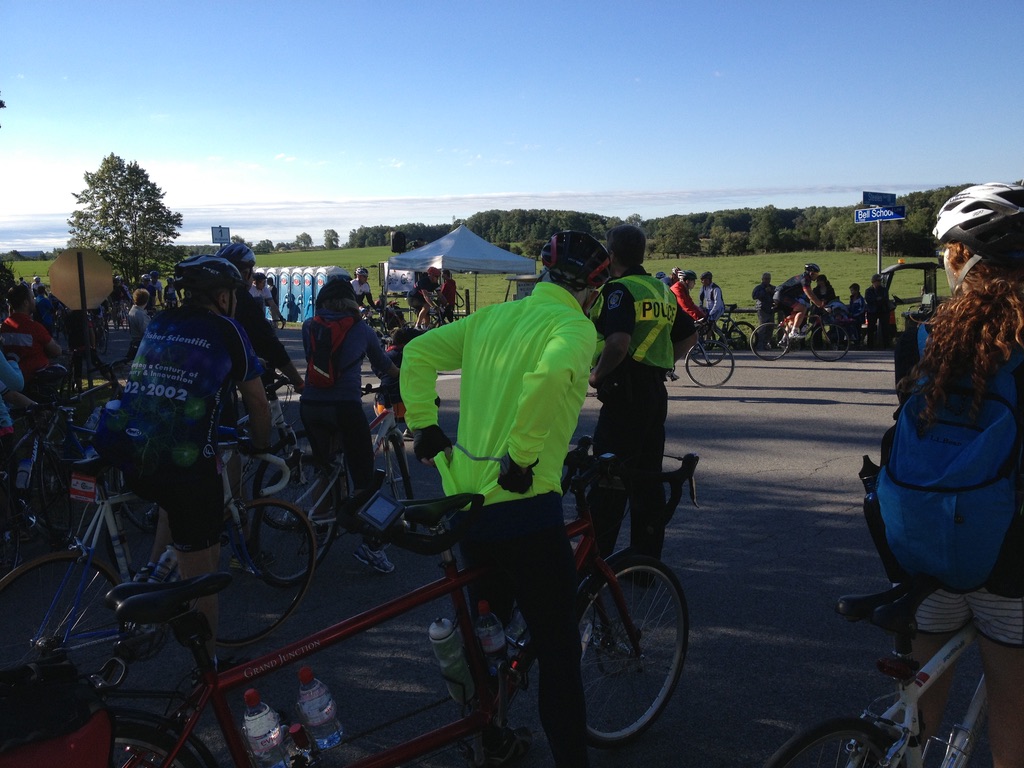 . One ride was particularly memorable as we hit 75 km/hr on a downhill section. Helen just closed her eyes and prayed!
A Burley cargo trailer was great for trips of more than one day
.
The only time we ever cycled in the rain was during an overnight trip organized by "Ontario by bike"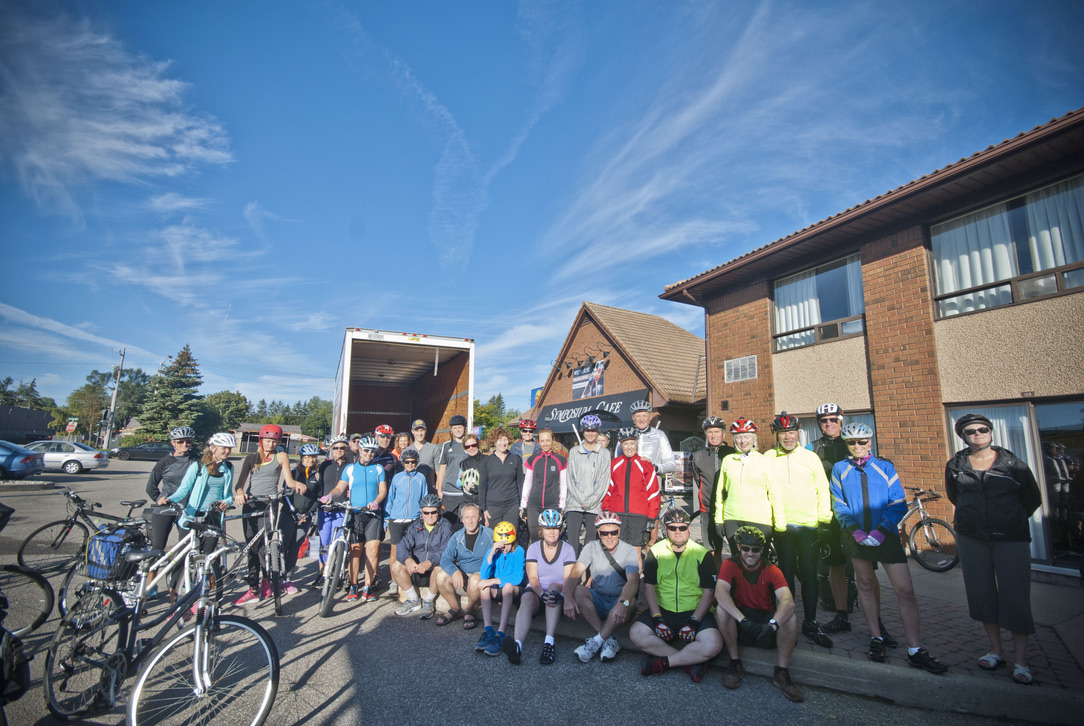 . Along with the other 45 cyclists, we were caught by a sudden downpour. We had brand-new cycling rain capes packed in our panniers, but were thoroughly soaked before we figured out how to put them on!
When Helen needed to get my attention, she would have to shout for me to understand her, given the helmets, wind noise, traffic noise, and my age-related hearing loss. We learned about a great solution from other tandem teams: a communications system for cyclists, adapted from similar systems developed for motorcyclists, which not only allowed us to talk to each other but also make phone calls or listen to music, etc from our cell phones. Although the Cardo BK-1 Duo we bought is no longer available, Sena (and probably others) market systems designed for cyclists.
Good communication on a tandem is vital. The person in front (the "captain") has all the control: steering, gears, and brakes. The person in back (the "stoker") has limited visibility, so may not be able to spot and prepare for bumps and potholes. The stoker also needs to know about gear changes or upcoming stops. Not all tandem riders function as a "team", unfortunately. Although we had our share of scary situations, such as when other cyclists would stop suddenly in front of us, Helen learned to trust that I would do my best to look after her.
(Note that a stoker has control using pokes and prods, and thus may be designated "rear admiral"!)
Helen and I loved our tandem outings
and with experience took on more interesting and challenging rides. But these ended abruptly in 2017 when Helen was diagnosed with colon cancer. Surgery and multiple courses of chemotherapy ultimately failed, and in 2019 she succumbed, thankfully in peace and without pain.
Three years later, I must accept the realization that I am unlikely to find another tandem partner, and so must say goodbye to the bike that brought us so many good times together. It's my hope that it will find a good home, and continue to do its work of helping people to find joy by being teammates!